Launching a new medical device requires a tremendous effort, first to convince health professionals, then to help them use the new device. Virtual reality and video can be valuable allies during this diffusion phase. Explanations.
Is your new medical device on the launching pad? You must be wondering whether you have done everything from your end to ensure the commercial success it deserves. In fact, launching a new medical device always represents a major challenge: regardless of the countries targeted, the medical device market is eminently complex and difficult to invest in.
One of the key factors for success is, of course, the adoption of new medical equipment by their future users. For a closer look at this subject, we invite you to read our previous article on the adoption of new devices by healthcare professionals.
In this article, we see that to optimize adoption we must offer healthcare professionals the most effective means possible to discover, understand, and use the new medical device.
In this matter, new technologies, especially virtual reality, are especially advantageous. Below is a list of these advantages, the impacts of which can be measured throughout the product launch.
Discovery Phase: Immersion and the "Wow" Effect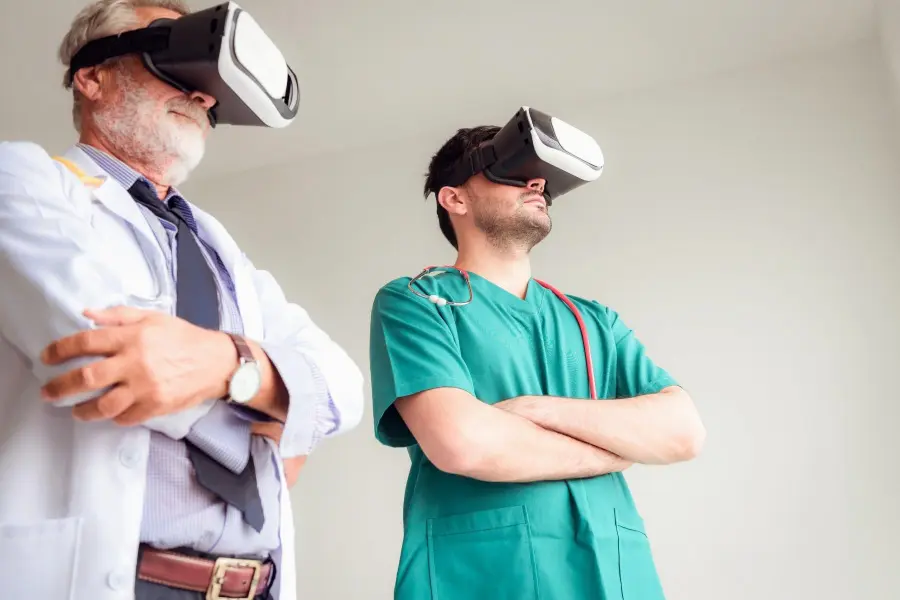 1. Enhancing the innovative dimension
What could make more sense that presenting an innovative medical device using innovative methods?
By allowing your prospects to discover your new product through immersive videos and/or virtual reality, you enhance its innovative dimension. It is much easier to create a "wow effect," especially with innovators and early adopters, who are, by definition, drawn to innovation (according to E. Rogers' diffusion of innovation model).
In addition to increased sensory stimulation, virtual reality generates an emotional impact, which helps your prospects better remember your presentation.
2. Facilitating the discovery phase
The immersive effect of first-person videos allows healthcare professionals to appreciate the benefits of a new device faster and more concretely, not only its clinical benefits, but its organizational and economic benefits (time saved, greater efficiency, etc.), as well.
3. An alternative or supplement to in-person learning
We can also add that an immersive presentation device with video and virtual reality is certainly the alternative that most closely resembles a real-life demonstration. Not only do in-person demonstrations represent a large investment (which increases with the number of demonstrations), but they can also be hard to organize, especially in environments with more restricted access (such as operating rooms).
Evaluating the New Device: Ensuring Proper Use of The Equipment for Optimal Benefits
All medical devices are user-dependent, that is, their use is connected to the actions of the user (usually a healthcare professional).
4. More easily show all the benefits of the new device
Demonstrating the benefits provided by a new medical device requires optimal conditions of use.
According to the French association for medical device manufacturers, SNITEM, "It is hard to know and define all of the impacts an innovation might have in real life before it's been used. Thus, a study performed as part of these programs may miss important medical and financial elements." As previously indicated, a presentation using immersive tutorials allows professionals to better grasp all of the impacts of using a new medical device.
It is also essential to provide training for the teams involved, in order to minimize the learning curve. Immersive videos and virtual reality have no lack of benefits when it comes to experiential learning.
5. Simulation of a real-life experience is one of the most efficient methods for learning and memorization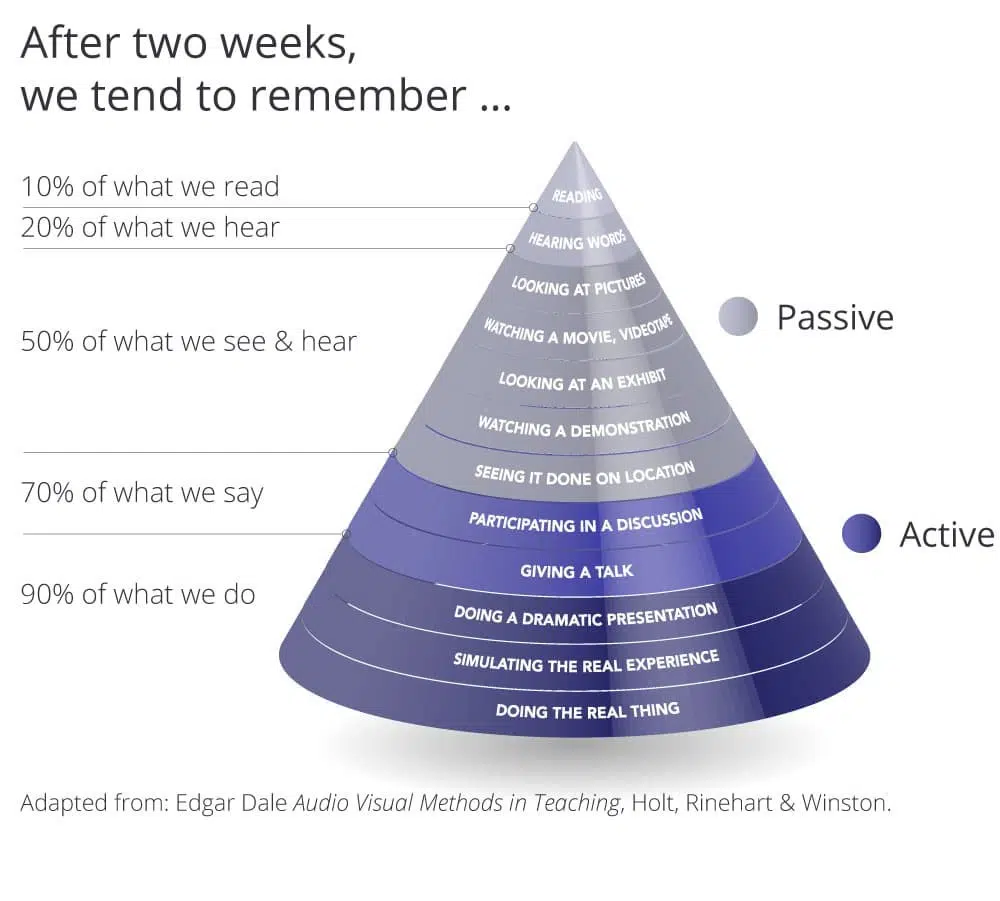 As illustrated in the visual above, the brain easily stores information it considers important for managing real-life situations or improving expertise.
6. Virtual reality technologies have a greater sensory and emotional impact than traditional teaching techniques
Several studies show that the more engaged the senses are during learning, the greater the impact on the brain. The same goes for positive emotions, which can be induced by a virtual environment design conducive to learning and memorization.
7. Subjective (first-person) learning makes immersion and retention even better
According to the studies done by Fiorella et al. (2017), learning by imitation -engaging our motor neurons- is significantly improved by using first-person point of view.

The brain, freed from the cognitive load involved in translating a demonstrated action to its own perspective, records information faster, with less risk of error.
Diffusion: Speed Up the Process with Immersive Video Tutorials
During the phase of diffusing a new medical device throughout the target market, the strategic question of its adoption by healthcare professionals remains. Making immersive video tutorials available using virtual/augmented reality provides the same benefits.
8. A faster learning curve and fewer errors
Furthermore, healthcare professionals are proving to be increasingly familiar with these technologies: "In medical education, first point-of-view video learning is gaining more importance" (Fukkink, Trienekens & Kramer 2010). "Students perceive the use of a first-person-view as increasing their ability to learn clinical skills and also as an authentic and immersive way of learning."
And the benefits of expanding the use of immersive tutorials on using medical devices doesn't stop there…
9. These tutorials reduce the need for in-person training
This is especially valuable for equipment used in areas with restricted access (operating rooms), not to mention the financial savings this involves.
10. These tutorials can, by nature, be reused as many times as necessary
Being able to repeat the training not only ensures optimal learning, but also reassures users and prevents risks of "forgetting" how to perform technical procedures and care by allowing users to periodically review the tutorials.
11. These tutorials are available at any time, and under any circumstances
This is especially valuable for medical devices that can be used only in specific environments (such as in the operating room). Tutorials can be made even more accessible by making it possible for users to consult them from media other than VR headsets, such as computers, tablets, or smartphones (as is the case with Revinax's tutorials).
Tutorial Design: Expertise Required
To provide all of the benefits mentioned in this article and help launch your medical devices on the market, these immersive tutorials require true design expertise (in video capture, tutorial production, and designing a virtual environment conducive to learning, etc.). Revinax provides this by combining active monitoring of new training techniques with virtual reality technologies. "We specialize in immersive tutorials for learning complex techniques in a wide variety of fields, including medicine, risk management, and manufacturing."